When utilizing MyInvoiceOnline.co.uk, you can effortlessly generate an invoice and promptly dispatch it to the recipient via email. Details regarding the functionalities related to sending invoices through MyInvoiceOnline are outlined in the subsequent article.
Upon completing the invoice creation form, there is a section in the lower right corner of the screen that facilitates the instant dispatch of the invoice via email.
Should you opt to send the invoice via email, simply input the recipient's email into the designated field.
If the recipient's email has been utilized previously, it can be easily retrieved from the drop-down menu.
If you prefer to use a different email address as the sender, distinct from the one registered with MyInvoiceOnline.co.uk, you can modify the email address in the Sender field.
Among the various beneficial features of MyInvoiceOnline.co.uk is the capability to forward a duplicate of the invoice to your email and append additional attachments to the email.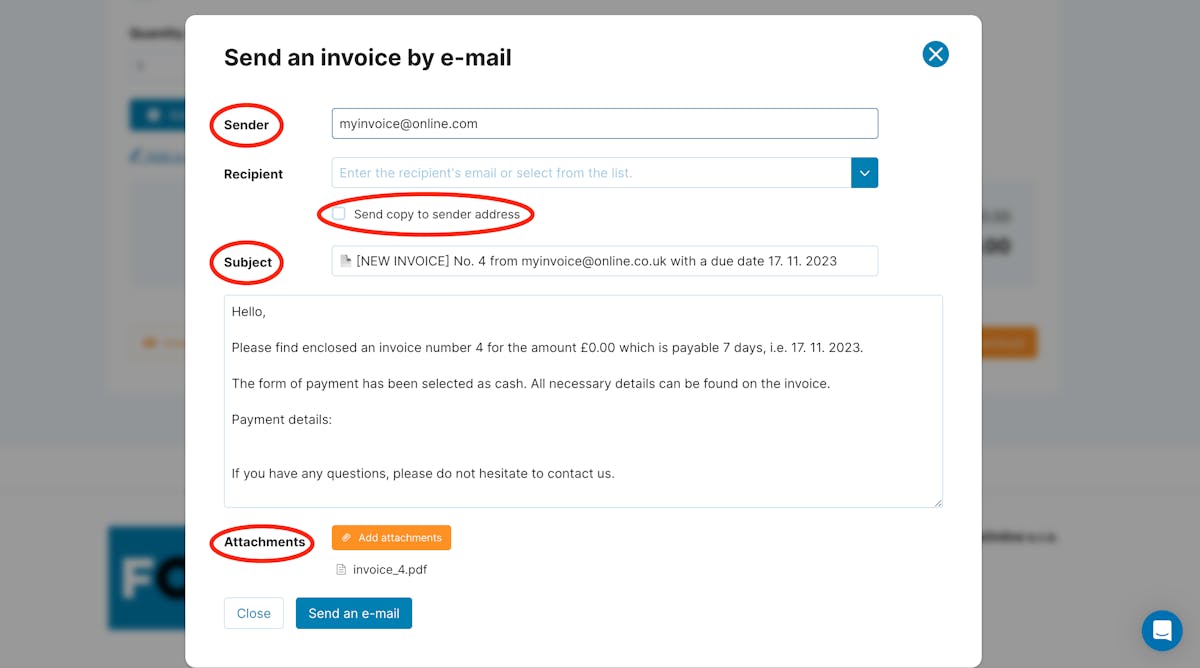 Email Templates
The subject and content of the email can be preconfigured in the My Account - Email Templates section.
Instructions on creating email templates can be found in this article.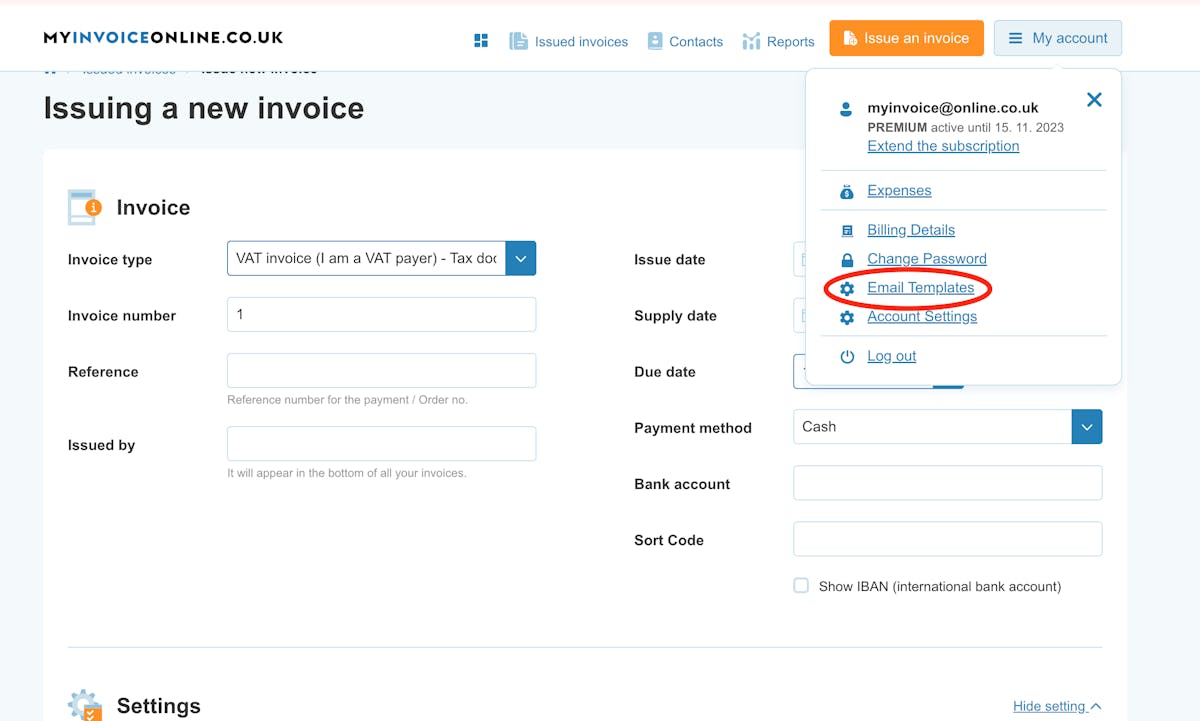 Sending a Previously Issued Invoice via Email
Users on the premium tariff have the option to dispatch a previously issued invoice via email at any time in the Issued Invoices section.
To email an invoice, simply click on the email icon next to the chosen invoice and send it to the recipient.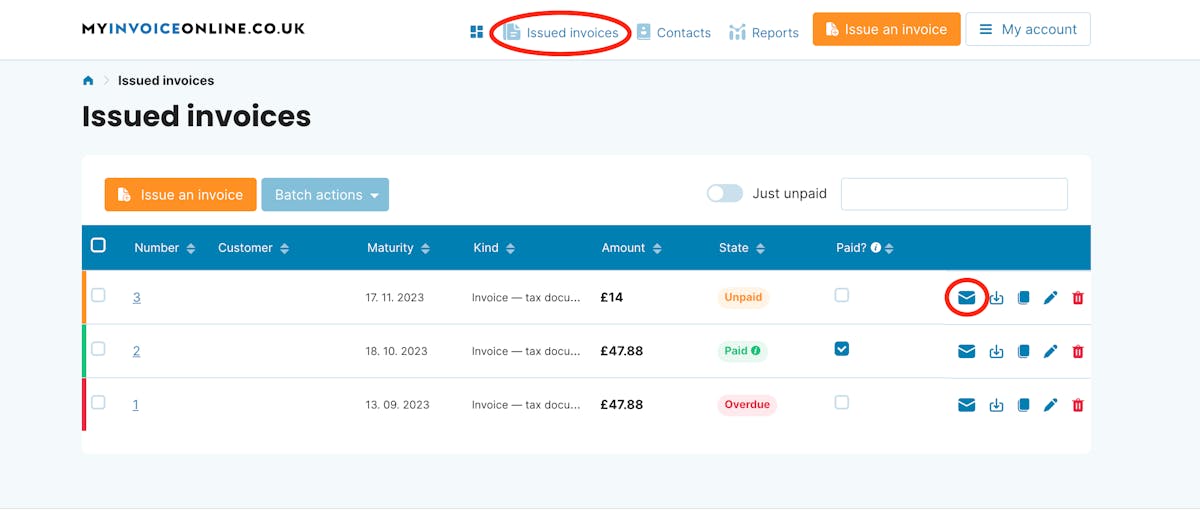 This function is also applicable for sending a thank-you message if the invoice has been settled or a reminder if the due date has lapsed.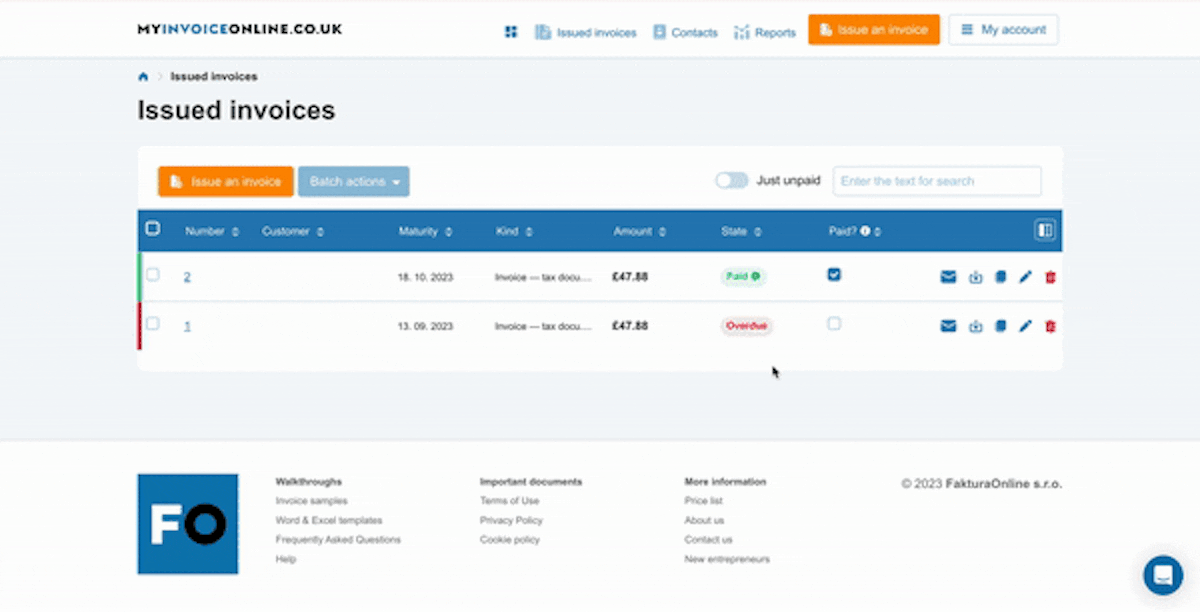 Verification of Invoice Delivery via Email
To confirm whether an invoice was previously sent via email and ascertain its delivery to the recipient, you can do so in the Issued Invoices section. Click on the specific invoice number, and the invoice will be displayed. In the top toolbar, access the History column to view the date and time of sending the invoice, its delivery, and viewing by the recipient.